Workshops and Conferences organized by the Chair
2021 (planned)
KMW co-organizer of the 3rd Great Rivers Forum, Wuhan
2020
AB and KMW organizers of the First African International Conference on River Culture", Senegal, Africa, 20.-22.2.2020
2018
KMW co-organizer of the 2nd International Great Rivers Forum, Wuhan by UNESCO Beiing and the River Civilisations Museum at Wuhan, China, 28.-30.10.2018, online audience: > 25,000!
KMW organizer of the Workshop on Giant River Pearl Mussel conservation, Chinon, France, June 2018
2016/19
KMW organizer of three Workshops on Ecohydraulics and Dam Removal (Sedimentology, Biology, Chemistry and Methods) at the Chinon Center for Freshwater Studies (LeStudium project)
2015
AB and KMW organizers of the Workshop River Culture at Angers, 7-9.07.2015, for the UNESCO Chair River Culture. Culture du fleuve : occupation des sols, pratiques et qualité environnementale (in french)
KMW organizer of the Workshop Man and River within the 8th International Conference on Proximity: Building Proximities in a Global World: Territorial, Organisational and Societal Challenges, Tours, 22-25.05.2015
2014
Preparative workshop at Chinon, 22. / 23. May 2014: Chinon River Sciences 2014 – an international workshop on River Restauration: towards an agenda for research, action, and teaching (programme, press release (in french))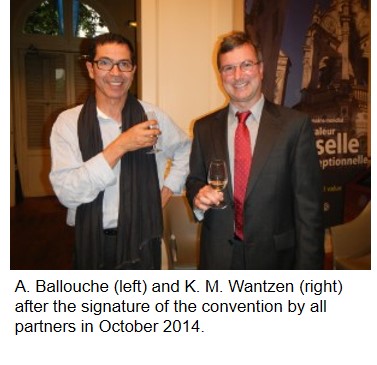 bottom up
Participation in Seminaries and Conferences by the Chair
UNESCO Chairs need to exchange with partners all over the Planet. Participation in conferences is one of the most efficient techniques to achieve this goal.
Conference participations since the beginning of the Chair
(only Chair-relevant presentations and invited keynote talks)
2020
Rendez-vous annuel des Chaires UNESCO Français, UNESCO, Paris 17.01.2020 invited by UNESCO
Public talk (Open University): Climate Change and Water, Chateau LaValliere, France (February 2020)
1st African International Conference on River Culture, St. Louis du Senegal, Africa, 20.-22.2.2020
6th IAHR (International Association for Hydro-Environment Engineering and Research) conference in Warsaw, Poland, 29.6.-2.7.2020 (postponed due to Corona)
"Rhin Vivant" Stakeholder-Scientist meeting organized by DREAL GrandEst, Strasbourg, France, 3.10.2020
EauMega - Second International Conference «Water, Megacities and Global Change», UNESCO Paris, 1.-4.12.2020
2019
International workshop on Riverine Ecosystem Services, organised by the The National Water Science Program of the Hungarian Academy of Sciences, Budapest, Hungary 26-28.11.2019
International Conference on Water and Civilization: Exploring Water History in the Horizon of the Community of Shared Future for Mankind, Hubei, China 9-12 May, 2019 (declined for conflict of appointments)
River Culture: Maintaining biological and cultural diversities of inland water socio-ecosystems, UNESCO Network of Global Water Museums, 3rd WAMU Conference Valencia, Spain, 12 – 15 June 2019
EU Project "AMBER" (Adaptive Management of Barriers in European Rivers), Malaga, Spain, September 2019
Workshop « Development of a National System for Biodiversity Assessment and Environmental Quality Monitoring », Mexico City, 24.-28. April 2019
Seminário international : O vegetal colonial e as transformações socio-ambientais na paisagem da África colonial francesa e portuguesa, Universidade do Porto, 4-5 April 2019 (by Aziz Ballouche).
2018
IS Rivers Conference (Workshop on Rivers of the Anthropocene) Lyon, France 26. June 2018
EU Project "AMBER" (Adaptive Management of Barriers in European Rivers), Le Puy, France, 29.-30. September 2018
UNESCO ICOMOS "Crossover Forum" at Wuhan, China, 25.-27.10.2018
"2nd International Great Rivers Forum" by UNESCO at Wuhan, China, 28.-30.10.2018
"2nd International Philippine Symposium on Freshwater Biodiversity, Quezon, Philippines, 11.-14.12.2018
2015
Two keynotes. 3rd International Symposium on Healthy Rivers and Sustainable Water Resource Management, Chongquing, China, 21.-23. October 2015
Seminaries of the Wassercluster Lunz, 1. July 2015
Seminaries of the University of Bonn 26.06.2015
8th International conference Building Proximities in a Global World:Territorial, Organisational and Societal Challenges, Université François Rabelais,Tours, France, 20.-21.05.2015
4UNESCO Chair: Fleuve et Patrimoine - River Culture Workshop, University of Angers, France 19.3.2015
2014
Seminaries of the Maison de La Loire à Montlouis, 18.11.2014
17 ème Journée de Rencontres CORELA, Ancenis Vendredi 10 October 2014
German-Brazilian Workshop on Sustainable Landmanagement under the auspices of the Bundesministerium für Bildung und Forschung, Manaus and Cuiaba, Brazil, 19. + 24.09. 2014
Meeting of french speaking LIFE+ projects, Direction Generale de l'Environnement, European Commission - Représentation en France, Paris, 6 October 2014
3 ème biennal des Zones Ateliers (= French LTSER sites), Paris 01.07.2014
Inauguration workshop for the UNESCO Chair: Fleuve et Patrimoine - River Culture = 1st Chinon Freshwater Science Meeting at the Chinon Center for Freshwater Sciences (pole universitaire), 14.-15.05.2014
Rendez-vous annuel des Chaires UNESCO Français, UNESCO, Paris 14.01.2014 invited by UNESCO
bottom up
Hosted Scientists
2020
One year LeStudium fellowship for Rebecca Tharme (riverfutures.org) at Tours (Host: Karl M. Wantzen) to work jointly on merging the Environmental Flows and the River Culture Concept, to work on editing the book on River Culture.
2015
3-day visit of Malavika Chauhan and Brij Gopal (Representatives of the Chair Network of India) at Chinon/Tours (Host: Karl M. Wantzen): Exchange about the River Culture Philosphy, advances on the River Culture publication, planning of an edited book on River culture
bottom up
Lecturing by Karl M. Wantzen
All my lecturing is dedicated to the thematic issues of the UNESCO Chair River Culture. It is based on a > 20 year long experience of lecturing in tropical and temperate countries. There is a mutual enhancement between lecturing and the development of the Chair research activities, as students often ask very relevant questions. The International Master Course on Urban Planning and Sustainability has hosted students from more than 50 different nations! Here, I teach a one-week unit on "tropical stream restauration in the urban context", which I consider a specifically pressing issue. The ideas developed in the course have recently been published, including students and colleagues from 12 different nations in the journal Sustainability.
My lecture "Sustainability – Global responsability of future engineers" is delivered to all 5 departments of Tours Polytechnic School, and I give specialized lectures on ecosystem restoration. For a detailed record of lectures and courses by Karl M. Wantzen see here.
Whenever possible, we bring students from the International Master Course together with those from the French Environmental Engineering course.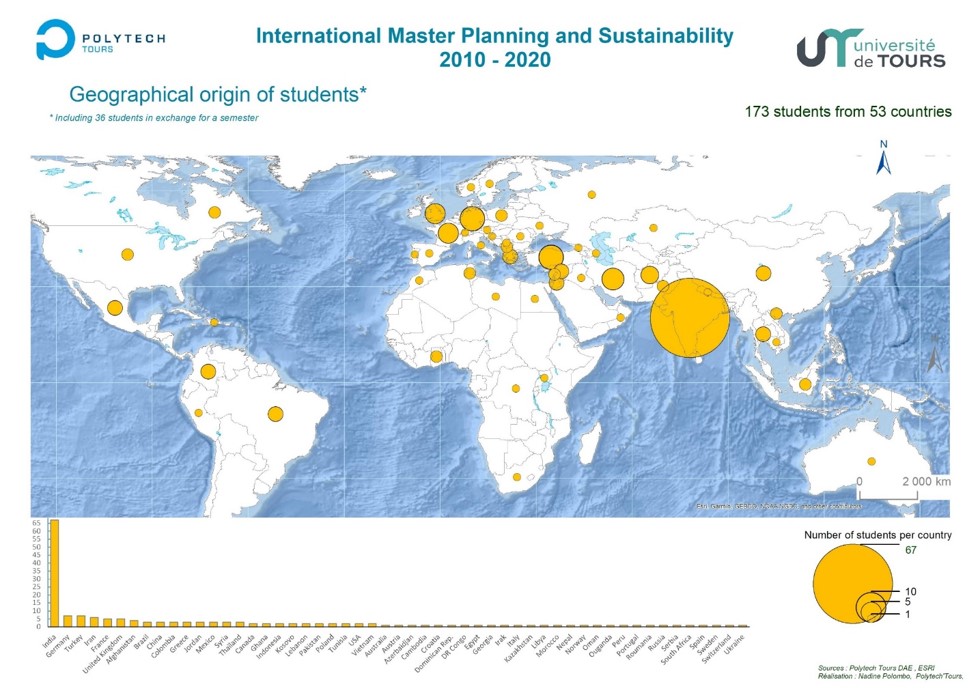 bottom up
Supervised Thesis
Training of foreign PhD students or local students that are sent abroad is one of the most efficient approaches to transfer knowledge between the continents. My own experience as a german student working in Brazil was that I had to give up much of the conceptual framework I had learned from US-European textbooks and I had to open my mind for new vistas on ecosystem functioning. These insights help me today, back to Europe, to question apparently solid standpoints and to allow new ideas. Thus all students in the context of the UNESCO Chair are given the opportunity to make this experience. Every year, 3-5 master students and interns participate in the current research projects by each of the co-chairs.
Doctorate (PhD) students supervised in the context of the UNESCO Chair:
Supervised by Karl M. Wantzen
ongoing
Yixin Cao: Urban River Restoration in China and Europe (Stipend from the Chinese Science Council fellowship). Yixin's PhD aims at delivering socio-ecological solutions to harmonize humans and nature in the fast growing Chinese cities.

Raita Bala Maphega: River Culture and options for urban river restoration in Kinshasa, Congo. In her PhD, Raita analyzes the still-existing tight linkages between human and rivers in Congo DR.
Alvin Vazha: River Culture and options for urban river restoration in Tamil Nadhu, India. River Culture in India has deep roots in religious-spiritual relationships with rivers, which Alvin analzes for his PhD, thesis, along with people's movements in favor of socio-ecological river restoration.
Chaozhong Tan: Urban Lake Restoration in Asia and Europe (Stipend from the Chinese Science Council fellowship). Chaozhong's PhD will focus on still waters in cities, their benefits for humans, and how to manage them to harmonize humans and nature in fast growing cities.
Nicolas Garello: Continuing the very fertile collaboration with the National Institute of Limnology of Argentina, Nico's thesis is on Ecology of invertebrates and impact by macro and microplastic particles in the aquatic-terrestrial transition zone of the Paraná River, Argentina (PhD, co-supervision with Prof. Dr. Blettler, Universidad del Valle, Argentina, and Prof. Dr. Rodrigues, University of Tours)
finished
Joaquín Soler: Ecophysiology and reproductive biology of the Giant Freshwater Pearl Mussel, Margaritifera auricularia, as scientific baseline for conservation (PhD, co-supervision with Prof. Dr. Rafael Araújo, Museo Nacional de Sciencias Naturales, Madrid, Spain 2014-2018). Joaquín has been working in our EU LIFE Project: Conservation of the Giant Pearl Mussel in Europe (LIFE13 BIO/FR/001162) in order to find the optimal reproduction and reintroduction techniques for a once common, today extremely rare mussel species. This mussel is linked to many cultural use forms, such as mother of pearl, and the use of sturgeon, the host fish to this mussel species.
Pauline Hervé: has developed her thesis on wetland restoration with a focus on small temporary wetlands in European woodlands. (PhD, co-supervision with Francis Isselin, Tours University, 2014-2018)
Aude Zingraff: Restoration and uses of urban rivers in France and Germany (PhD, co-supervision with Prof. Dr. Pauleit, Technische Universität München, 2012-2016). These intracultural comparisons may help us a lot to understand how we can better turn science-based approaches into a societal reality. Aude is also lecturing in the International Master Course at PolyTech Tours. Aude has built up a work group at TUM Munich and leads a EU H2020 project on nature-based solutions.
Miguel Saigo: Stable isotope analysis of aquatic-terrestrial interactions in neotropical floodplains (PhD, co-supervision with Prof. Dr. Mercedes Marchese, Universidad del Valle Argentina, since 2010-2014). The thesis is about how organisms transfer carbon in an aquatic-terrestrial foodweb.
Luiza O. Vega: She has done a PhD on carbon stock in Neotropical Floodplain wetlands, which was followed by a study on carbon budgets in Brazilian agroscapes as post-doc (2010-2014).
Supervised by Aziz Ballouche
Emmanuel Weisskopf: Geo-archeological studies on environmental and landscape dynamics in the Bao Bolon valley (Sénégal). Since september 2019. Fellowship by Université d'Angers
Imrana Aliyu: Geospatial mapping and monitoring of the impacts of oil spillage in the Niger-delta mangroves, using microwave and optical satellite imageries. Octobre 2019. (co-supervision with Aurélie Davranche, Angers University). Scholarship Campus-France/PTDF (Petroleum Trust Development Fund, Nigeria).
Ricardo Ratsimba O. Andriatsiaronandroy: has finished his PhD with AB and is now assistant professor, Université de Toliara, Madagascar.
bottom up
Research Projects
The UNESCO Chair River Culture seeks to develop research projects that deliver basics for action plans to improve the diversity and the well-functioning of river socio-ecosystems, in order to act against the current losses of biological and cultural diversity. Using the words of one of the freat tropical ecologist, Dan Janzen, "If we cannot set aside our personal interests, research, and development, and put our entire effort to affixing permanently some of tropical nature, then we have sold the tropics' long-term fitness for a handful of instant gratification." (D. JANZEN: The future of tropical ecology, 1985). Sadly, this has also become true for nearly all rivers of this planet. Thus, our research projects have a very strong applied approach.
Research projects by Karl M. Wantzen
Book Project: Wantzen, K.M. (ed., 2020): River Culture – Life as a dance to the rhythm of the waters.
UNESCO press, in preparation (will appear 2021).
This project is the result of the 2nd Great Rivers Symposium in Wuhan, China, October 2018. This book makes an attempt to mitigate the global biocultural crisis by giving positive examples from all over the world, how man and rivers have been and are still living in harmony, and how this knowledge can be transferred into modern river management schemes. A harmonious way to live with the river includes i.a. respecting its natural features and "ecosystem services", adapting human activities (e.g. fishing, agriculture, river work), considering a natural hydrological pattern (Flood Pulse, Environmental Flows), also including the psychological-spiritual linkage to the river (e.g. worshipping, well-being, recreation, environmental education, inspiration).
EU-LIFE Project: Conservation of the Giant Pearl Mussel in Europe (LIFE13 BIO/FR/001162)
This project aims at halting the extinction of a rare riverine species, the Giant Pearl Mussel Margaritifera auricularia. Together with partners in the Conseil Départemental Charente Maritime and experts such as Rafael Araujo, National Museum for Natural Sciences in Madrid, Spain, and Jürgen Geist, University of Munich, our aim is to establish adequate living conditions for this species in European Rivers, deliver scientific solutions for artificial reproduction, rearing and reintroduction conditions for young mussels, and to find alternative host fishes while populations of the sturgeon are recovering. To learn more ...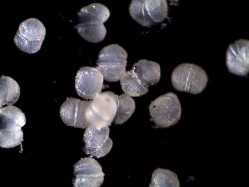 Our film «Conservation of the Giant River Pearl Mussel in Europe, Margaritifera auricularia» was selected as the best universitarian documentary in 2018 (Grand Prix du Festival du Film Anstia 2018) (video).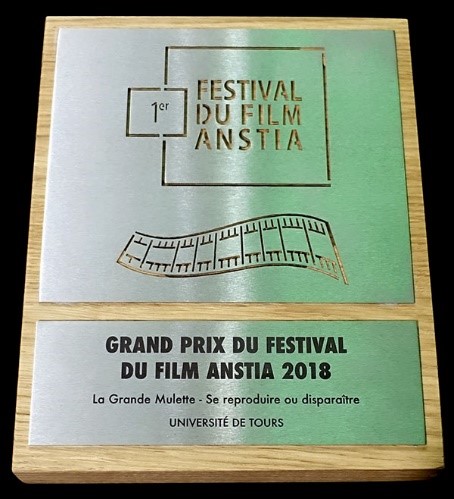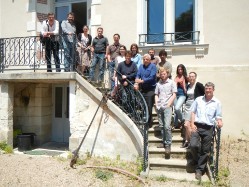 Subproject « Carbon farming » of the CARBIOCIAL Project. This project aims at improving carbon storage in headwater catchments of Brazilian agroscapes and thereby protect these better from agricultural impacts.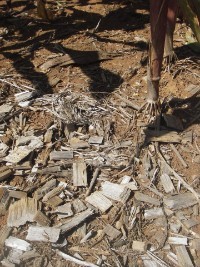 The EU regional program/Agence de l'Eau project «SIAL – Stable Isotope Analysis Loire» analyses foodwebs of the Loire influenced by an invasive species. Foodwebs are a central element of ecosystem functioning, therefore their analysis delivers excellent information about well-functioning or eventual impairment. Here, we study the impact of the invasive mussel Corbicula sp. on the foodwebs.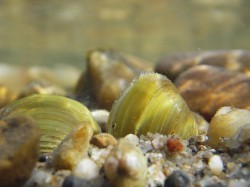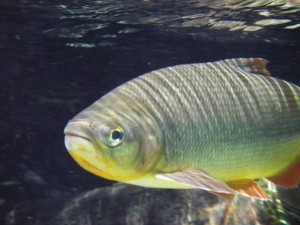 LeStudium consortium «Ecohydraulics and dam removal» (2016-2020). While the numbers of dam constructions are currently skyrocketing, in some countries regional planners are beginning to reflect on how dams could be modified, better managed or removed, in order to re-establish the continuity of water, sediments, and living beings. Our project will enable 4 workshops gathering experts in the field, including UNESCO Chair partners, who will assemble and assess available information and perform experiments that help to perform dam removal and dam management in a feasible and sustainable way.
Network: River-related UNESCO Chairs and UNESCO institutions. We are continuously improving a network that will help to exchange information about best management practices and lecturing facilities better. The UNESCO Chair on River Culture is part of the UNESCO water family.
Projects by Aziz Ballouche
Project IUF "Anthropogenic processes in tropical socio-ecosystem changes. A multi-scale approach." (2015-2020)
Project BVViti. Etude des transferts dans un bassin versant viticole (Coteaux du Layon). (Contrat Régional Bassins Versants, 2011-2016). Coordinateurs scientifiques: I. La Jeunesse (Univ. de Tours) & A. Ballouche (Univ. d'Angers)
ANR-SNF – CHeRCHA (CHronology of Rapid Climatic changes and Human adaptation in West Africa). Vallée de la Falémé (Sénégal) (2016-2018)
ANR-MRSEI-4 WETLANDSPACE "Wetland management tools from field to space." (2017-2019). To learn more ....
Partenariat Hubert Curien Toubkal: Enjeux paysagers et patrimoniaux dans une vallée urbaine (2017-2019). To learn more ...
bottom up